Please note that these record keeper pendant necklace/keyring pieces are exactly the same as our standard pendant necklace/keyring pieces, apart from the Double Terminated Lemurian seed quartz crystal has been upgraded to a Triangle-Faced Record-Keeper Double Terminated Lemurian seed quartz crystal.
These pendants combine orgonite and gemstones, and are the most convenient way to keep orgonite close to you at all times. They assist to combat the negative effects that electronic equipment has on etheric energy known as orgone, as well as incorporating crystals, gemstones and metals with various beneficial metaphysical properties.
Designs A and B can be used as a necklace or keyring, and designs D to M are keyring only. It is possible that designs D to M could be used as a necklace with some simple modifications, but they are sold as keyrings, and a necklace is not supplied with them.
Used as a necklace, these pendants would be positioned between the throat and heart chakras, centrally to the body. Used as a keyring, they can be placed in a pocket with or without keys. A left pocket may be the better choice, as energy is said to flow into the body from the left side.
Either way, they function best when inside the body's aura. If wearing as a necklace or placing in a pocket is not possible, it should be kept as close to the body as possible.
Orgonite is used in personal spaces to process negative orgone energy into positive orgone, while enhancing the metaphysical properties and functions of the crystals and gemstones encased within it.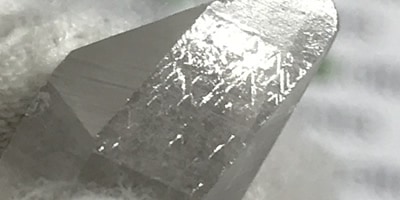 At the heart of our Gem Lemurian Record Keeper Pendant Necklace/Keyring orgonite devices is a very special record-keeper triangle-faced double-terminated Lemurian quartz crystal. This crystal is positioned pointing up vertically towards the mounting point for the necklace/keyring.
All Lemurian quartz crystals are said to be record keepers, but the presence of triangles on the faces of the crystal are extra special, and are known as triangle-faced record keepers.
These crystals have been said to have facilitated access to information stored within the Akashic Records (a compendium of all human events, thoughts, words, emotions and intent ever to have occurred, believed by theosophists to be encoded in a non-physical plane of existence known as the etheric plane), with the triangle shape representative of a door or gateway.
They are said to activate dormant intuitive and psychic abilities, and assist communication with spirit guides.
Lemurian crystals are considered to be master crystals; associated with all chakras and astrological signs, and are able to communicate with other crystals.
Metaphysical legend indicates that the peaceful ancient Lemurian civilisation planted these unique crystals around 12 million years ago, for future generations to uncover.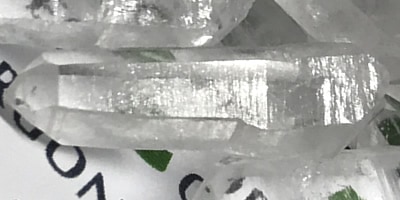 Physically, Lemurian crystals have multiple bar-code like horizontal grooves, striations or stripes along one or more sides of the shaft. These are said to contain information, knowledge and wisdom programmed and embedded by the Lemurian civilisation.
Standard single terminated crystals focus and amplify energy in one direction, but naturally double terminated crystals are known to simultaneously absorb and transmit energy in both directions.
A single terminated crystal can send energy from one chakra to the next; double terminated crystals can exchange energy between chakras, clearing blockages and bringing greater balance and stability.
This bi-directional transfer of energy can introduce or enhance stability in all the subtle energy systems of the body, and is especially useful in balancing energies between two people.
Record-keeper triangle-faced double-terminated Lemurian quartz crystals are incredible specimens, the crème de la crème, and are very rare indeed. Although the triangles only need to appear on one face for the crystal to be considered a record keeper, most of the record keeper Lemurian crystals we select have the record keeper triangle markings on both ends, with the arrows pointing in the direction of the termination at both terminations. These are rarely seen for sale, and command high prices when they are.

Orgonite has a unique ability to enhance the metaphysical properties of precious/semi-precious stones, rocks, minerals and gemstones encased within it, this is probably due to the intense positive energy that surrounds and flows through orgonite. This enables us to combine the negative energy scavenging and positive energy emitting qualities of orgonite, with the amplification of the inherent metaphysical properties possessed by gemstones.
Gemstones included in this piece are:
Lapis Lazuli
Encouraging clear, truthful expression and communication
Blue Kyanite
Aligning all chakras and layers of the aura
Chrysocolla
Aiding compromise in difficult situations
Malachite
Allowing for transformation and emotional clarity, as well as protection when travelling
Black Tourmaline
Providing grounding and protection
Pyrite
Helping to attract abundance and prosperity
Russian Shungite
A powerful grounding, protective and rejuvenating stone
Selenite (crystal)
Clearing, charging, and enhancing the properties of other crystals and stones in this piece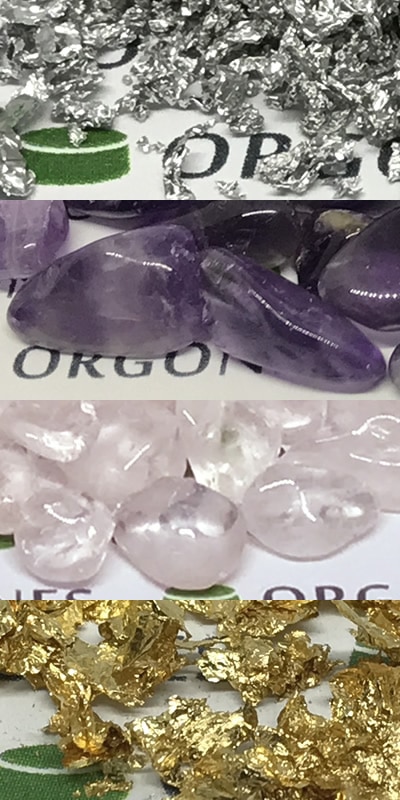 100% pure, clean aluminium makes up the metal portion, with one small amethyst quartz crystal piece, and one small rose quartz piece complementing the Lemurian for the crystal portion.
Also included in the matrix of this orgonite piece are 24-karat gold flakes. Gold is often referred to as the master healer, being able to clear negativity from chakras and energy fields of the physical, emotional, intellectual and spiritual bodies.
Gold is considered to have an energy which is cooperative, receptive and regenerative, and works very well with other gemstones, attracting and maintaining qualities from other stones, increasing their power, while providing a stabilising influence on them.
A basic keyring and basic necklace are included with designs A and B, allowing for use as one or the other. Only a basic keyring is supplied with designs D to M.
The necklace included with designs A and B is a standard 60cm length, and 3mm width chain. We encourage upgrading the chain to different lengths/materials to suit, and do not offer different lengths or types of chains, unfortunately.
The pendant designs A and B are fine to be submerged in water, including seawater, but the basic chain and jump ring we supply are not intended to come into contact with water. The pendant designs D to M are not intended to be submerged in water.
Each pendant comes presented in a velvet jewellery bag.
Each piece is hand made, and takes at least 6 days to make. We try our very best to ensure they are as aesthetically pleasing as possible, but the nature of the processes involved means that air bubbles, small holes, or blemishes may possibly be present.
Any such physical imperfections have no effect on the function of the piece.
These orgonite pendants are orgone processing material. They convert orgone from negative to positive, and are also thought to release positive orgone energy when stimulated by conventional forms of energy.