The holy hand grenade is the second most popular basic orgonite piece behind the towerbuster, and was originally intended for distribution outdoors into the wider environment.
Conceived by Don Croft in the early 2000s as a device to combat the negative effects that mobile phone masts have on etheric energy known as orgone, the name originates from a Monty Python film.
The original design features 5 terminated crystals; one located vertically in the centre, pointing up towards the tip of the cone, and the other four located horizontally at the base, equally spaced pointing from the centre outwards. The rest of the piece is a 50/50 mix of metal and resin.
We have significantly updated this basic original design for use within personal spaces, and use upgraded materials as detailed below.
Their size and orgone processing capacity is significantly larger than the towerbuster, and are particularly useful near bigger sources of negative orgone energy and EMR/EMF.
These pyramid-like orgonite pieces have a volume of about 320ml or 10.8oz, and a distinctive conical shape, as they are cast upside-down in martini glasses.
Orgonite is used in personal spaces to process negative orgone energy into positive orgone, while enhancing the metaphysical properties and functions of the crystals and gemstones encased within it.
Ideal locations for positioning orgonite are near electrical equipment (such as wifi routers, computers and TVs), and close to where people are situated (such as desks, tables, work surfaces, window sills and hallways).
Electricity meters, fuse boxes, and all electrical equipment are sources of EMR/EMF that orgonite scavenges. Other common locations are:
On or close to water pipes, especially at point of entry to the property
Inside toilet cisterns
On top of or around fridges and microwaves
At the bedside to aid pleasant and restful sleep
Around plants, both inside and outside, to aid plant growth and vitality
At the corners of buildings, inside, on as many levels as possible
At the boundaries of properties, outside, often buried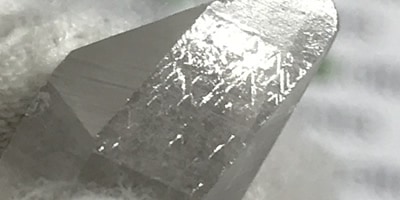 At the heart of our Lemurian holy hand grenade orgonite cone device is a very special double terminated triangle-faced record-keeper Lemurian seed quartz crystal.
This crystal is positioned in the middle of the piece, and points up vertically towards the tip of the cone.
All Lemurian quartz crystals are said to be record keepers, but the presence of triangles on the faces of the crystal are extra special, and are known as triangle-faced record keepers.
These crystals have been said to have facilitated access to information stored within the Akashic Records (a compendium of all human events, thoughts, words, emotions and intent ever to have occurred, believed by theosophists to be encoded in a non-physical plane of existence known as the etheric plane), with the triangle shape representative of a door or gateway.
They are said to activate dormant intuitive and psychic abilities, and assist communication with spirit guides.
Record-keeper triangle-faced double-terminated Lemurian quartz crystals are incredible specimens, the crème de la crème, and are very rare indeed. Although the triangles only need to appear on one face for the crystal to be considered a record keeper, most of the record keeper Lemurian crystals we select have the record keeper triangle markings on both ends, with the arrows pointing in the direction of the termination at both terminations. These are rarely seen for sale, and command high prices when they are.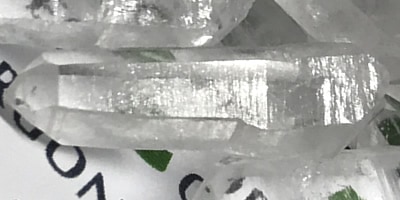 Near to the base of the cone, we have positioned six double terminated lemurian seed quartz crystals. These are horizontal, parallel to the base, and are evenly spaced to point out from the centre in a hexagonal formation.
Lemurian crystals are considered to be master crystals; associated with all chakras and astrological signs, and are able to communicate with other crystals.
Metaphysical legend indicates that the peaceful ancient Lemurian civilisation planted these unique crystals around 12 million years ago, for future generations to uncover.
Physically, Lemurian crystals have multiple bar-code like horizontal grooves, striations or stripes along one or more sides of the shaft. These are said to contain information, knowledge and wisdom programmed and embedded by the Lemurian civilisation.
Standard single terminated crystals focus and amplify energy in one direction, but naturally double terminated crystals are known to simultaneously absorb and transmit energy in both directions.
A single terminated crystal can send energy from one chakra to the next; double terminated crystals can exchange energy between chakras, clearing blockages and bringing greater balance and stability.
This bi-directional transfer of energy can introduce or enhance stability in all the subtle energy systems of the body, and is especially useful in balancing energies between two people.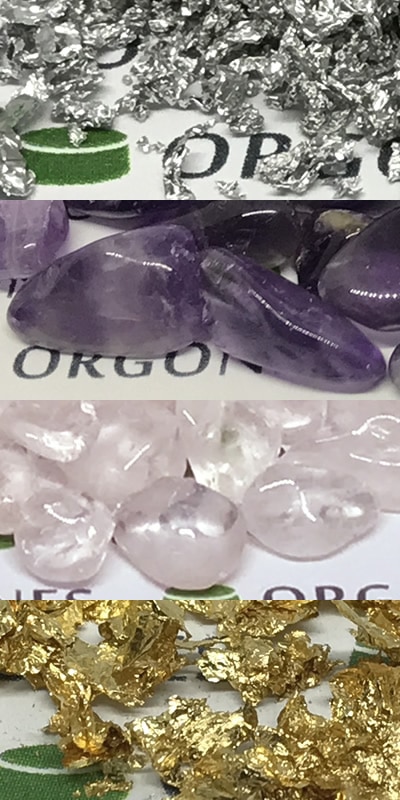 100% pure, clean aluminium makes up the metal portion, with six small amethyst quartz crystal pieces, and six small rose quartz pieces complementing the seven Lemurians for the crystal portion.
Also included in the matrix of this orgonite piece are 24-karat gold flakes. Gold is often referred to as the master healer, being able to clear negativity from chakras and energy fields of the physical, emotional, intellectual and spiritual bodies.
Gold is considered to have an energy which is cooperative, receptive and regenerative, and works very well with other gemstones, attracting and maintaining qualities from other stones, increasing their power, while providing a stabilising influence on them.
This item comes presented in a black velvet jewellery bag.
Each piece is hand made, and takes at least 6 days to make. We try our very best to ensure they are as aesthetically pleasing as possible, but the nature of the processes involved means that air bubbles, small holes, or blemishes may possibly be present.
Any such physical imperfections have no effect on the function of the piece.
This orgonite piece is orgone processing material. It converts orgone from negative to positive, and is also thought to release positive orgone energy when stimulated by conventional forms of energy.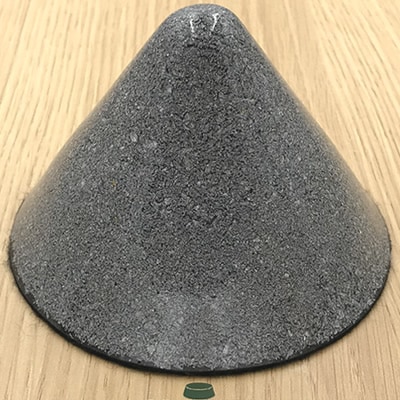 Sources
Materials, per piece
1x Record keeper double terminated Lemurian seed quartz crystal
6x Double terminated Lemurian seed quartz crystals
6x Amethyst quartz crystal pieces
6x Rose quartz pieces
100% pure, clean aluminium
24-karat gold flakes
Please see the "Materials used" tab to the right for full details about each material.
Technical details, per piece
Dimensions
(bottom diameter x height)
11.6cm x 7.4cm
4.5" x 2.9" approximately
Volume
320ml / 10.8oz approximately
Weight
390g / 13.8oz approximately
Plant growth
4 meter radius
Localised range
10 meter radius
Effective range
¾ mile